Garden Pods Derry by Berko Pod Systems
Ireland's leading bespoke garden pod, glamping pod, and garden room manufacturer.
At Berko Pod Systems, we are a family run business with over 25 years in the construction industry, specialising in modular builds, glamping pods & garden rooms.
With a highly skilled team, we design, engineer and manufacture high end modular glamping pods, homes & garden rooms by using the newest technology and modern methods of construction. All our unique & innovative pods are manufactured in our factory in Dungiven, Co. Derry, Northern Ireland, where we have the capacity to manufacture 120 modular rooms a year, with the hope to expand further in the coming years.
We have a versatile range of pods for clients to choose from but also offer a completely bespoke service where a client can create and design their dream pod. 
Types of Garden Pods Derry by Berko Pod Systems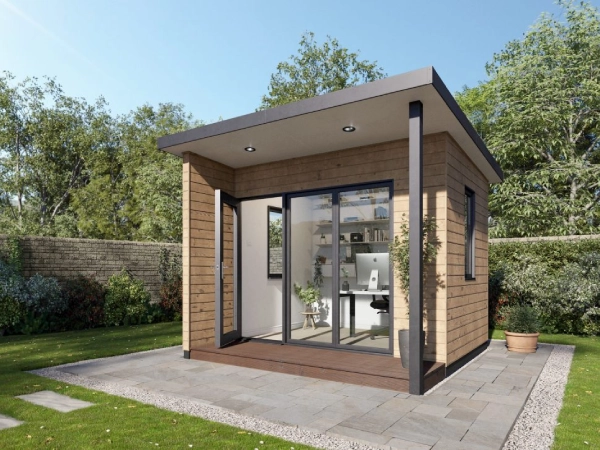 Our Garden Rooms are made from light gauge structural steel which is a much stronger and durable structure than standard timber framed pods/garden rooms.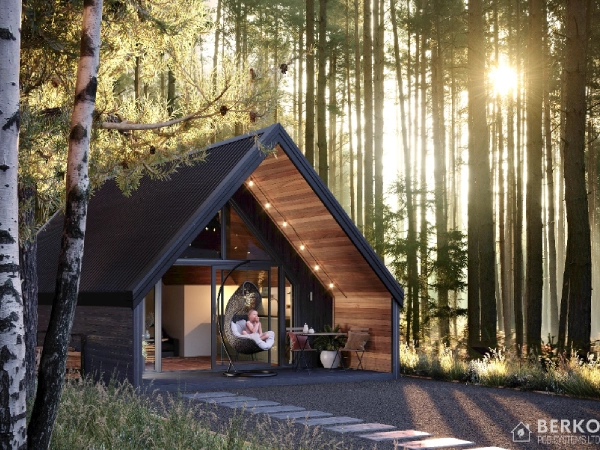 Berko Pod Systems are innovating the glamping and hospitality sectors with our unique, luxurious and immaculately finished pods.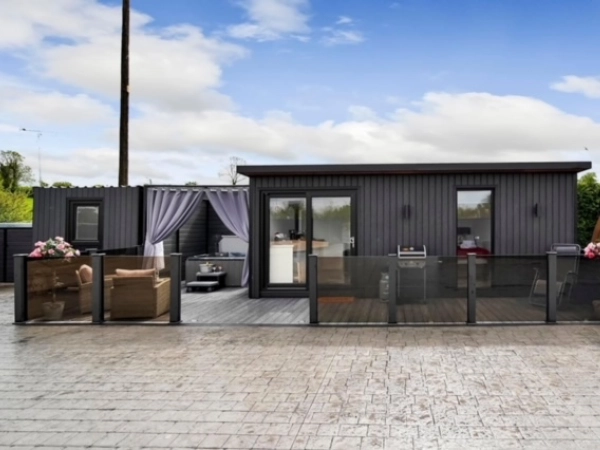 Innovative, efficient, and cost-effective, we can build our extensions offsite resulting in minimum disturbance to our clients and to your home. 
About our Modular Garden Pods Derry
All our garden rooms, glamping pods and modular homes are built using our CE certified galavanised light gauge steel frame. The light gauge steel frame has huge advantages in modular construction including:
100% Eco Friendly
Light gauge steel frame is made of 25% recycled material, it is 100% recyclable at the end of its life cycle and produces 67% less waste in comparison to traditional methods of construction.
Weather Resistant
Light Gauge steel is perfect for harsh climates like the UK & Ireland. It is not susceptible to rot like its timber counterparts.
Light Weight
Due to its lighter weight, LGS frames are the perfect solution for modular construction & transportations
Speed & efficiencies
With modular construction, we do not risk time delays due to weather and other external factors. As all factors are controlled in house, building with light guage steel allows us to deliver a turn key three bed modular home in just three months and garden rooms & glamping pods can be built in just 1 week!!
Versatility & use of cutting edge software
Our systems use the highest technology which processes designs and manufactures the steel to mm precision, enabling our pods to be of any shape, design and size that you wish.
Durability
Our light gauge steel frame comes with a guarantee of 80 years!
Berko Pod Systems are Number one for Build Quality
Our focus for all our modular garden rooms, modular homes and glamping pods is sustainability and durability.
We pride ourselves on our well thought through structures,with focus on insulation, ventilation and air flow.
As a result, all our rooms achieve U values akin to your new build home. All our pods come with their own electrical certs and rigorous testing is carried out prior to our pods leaving our premises.
If you can dream it, We can make it.
Garden Pods & Garden Rooms in Derry Built To Last.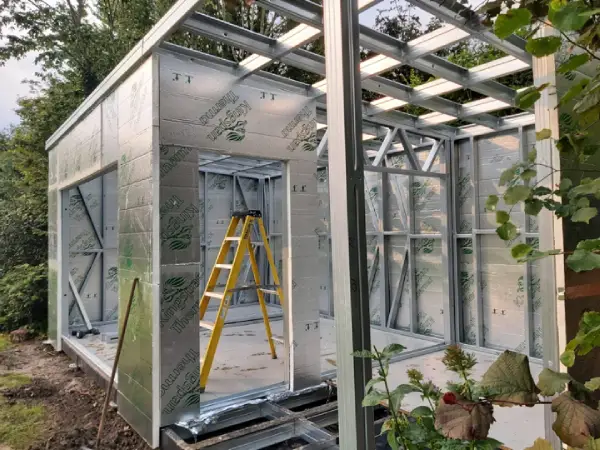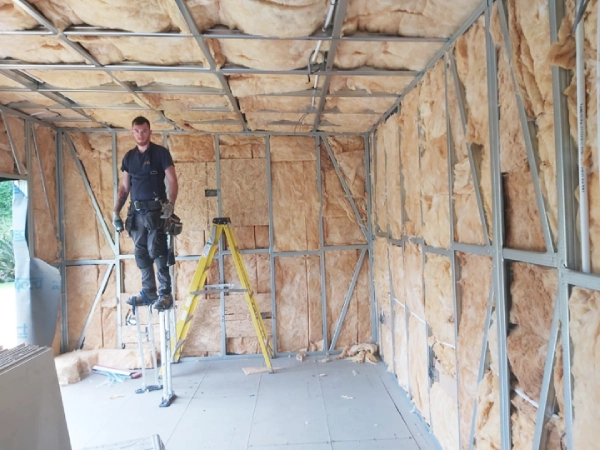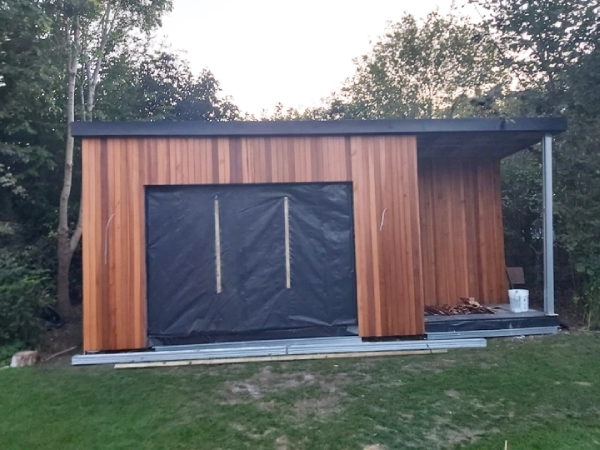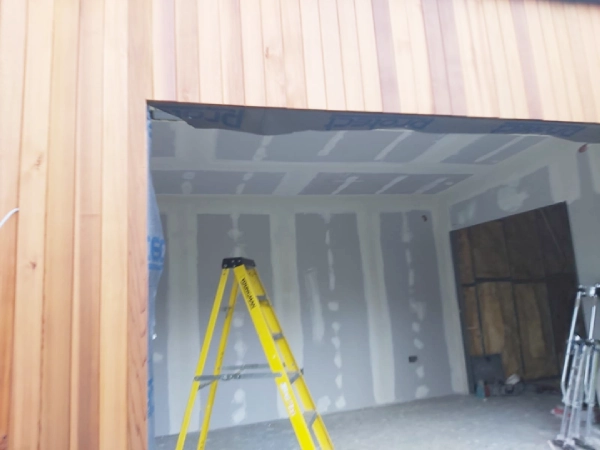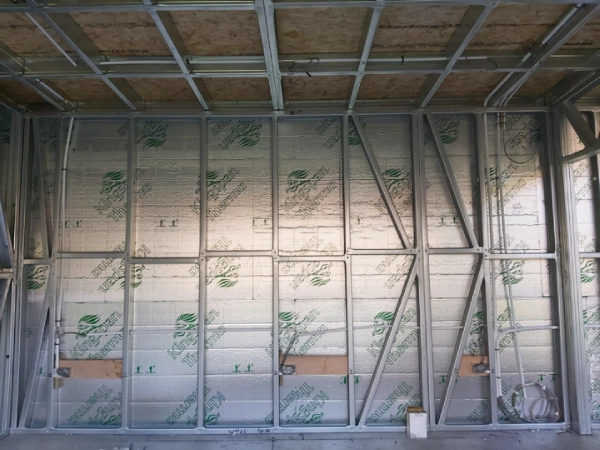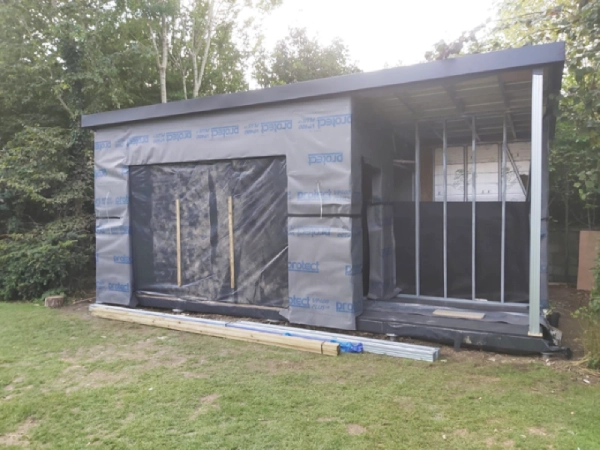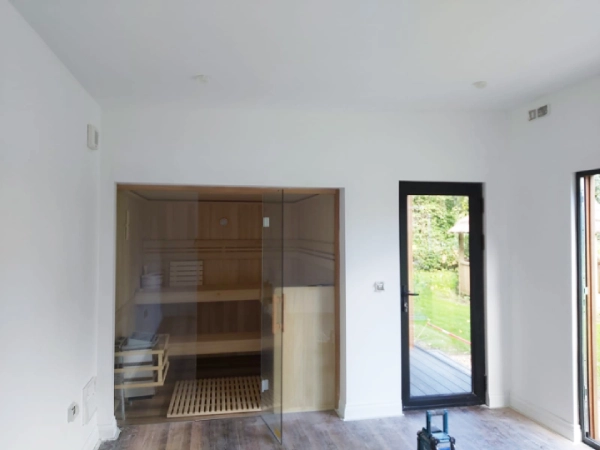 We are a family owned construction company with over 20 years experience specialising in framework and partition installation services. We have adapted our systems to create unique, lasting and eco-friendly garden rooms perfectly suited to the climate here in Ireland.  Whether you're looking for the perfect work from home office to home cinemas we can design and create a
bespoke garden pod of your choice,
designed to help you maximize the garden space available to you.
Our collection of
Standard and Deluxe garden pods
are sure to suit every need and application, no matter what. If you're looking for somewhere to relax and unwind in the evening, or a space to entertain friends or family at the weekends, our range of garden pods are perfectly suited to cater for your every need. We also offer bespoke building solutions customized to your unique requirements. So if you have any further questions, feel free to reach out and
get in touch.
Read What Our Berko Pod Systems Happy Garden Pods Customers 
Have To Say
I commissioned Berko Pods to build a bespoke garden office/room for me. From the initial phone conversation to the final handover I cannot fault Charlie and his team. Using their experience they were able to convert my ideas into reality. The build process was quick and tidy and I was kept informed of progress throughout. I have been using my pod for a couple of months now and it has far exceeded my expectations in terms of light, insulation and finish. Prior to working with Charlie and his team I researched many different pod companies, they stood out on all fronts with products that are of a far better quality and finish than their competition. I would not hesitate to recommend Berko Pods.
We commissioned Berko Pods for a garden office for my dad as my sister and nieces had moved home. To say they were professional is an understatement, from the very start we were given the best customer service and were treated wonderfully, we went with a custom order as the space we had available was very tight and the solution Berko provide is incredible. To say that the product they have delivered is well designed and built is an understatement, it truly feels sturdier and better insulated than our house! One of the best parts of their solution was the use of footings/ground screws so there was no need for a concrete slab. All of the lads who assembled our office were fantastic, professional and approachable if we thought of anything and the communication we had with everyone was fantastic. We could not be happier with the garden office we got and would absolutely recommend Berko to anyone looking for a bespoke, quality product from an amazing and open company. From day one Charlie and Niamh really looked after us and made sure that we were involved and happy with every stage, we are delighted with the result!⭐⭐⭐⭐⭐
Can't speak highly enough of this company. We wanted a bespoke garden room and are so glad we went with Charlie and Niamh at Berko Pod Systems. From start to finish it was hassle free and the quality of the finished product is excellent. The steel framed garden room is like having an extension to our home without the disruption and inconvenience of getting building work done. Charlie and Niamh kept us regularly informed of the build progress and it was delivered and installed in the agreed timescale. Would have no hesitation recommending Berko Pod Systems to anyone thinking of getting a garden room/pod or shepherds hut etc.
Contact us for more Garden Pods Derry information
Fill out the form and one of our team members will be back to you shortly with more information.