Are Garden Rooms Worth it?
The costs of owning a garden room may seem like a large initial investment. However, the long-term benefits of owning a garden room far outweigh the scope of the initial investment. Once your pod has been carefully built, the opportunities regarding how you can transform this new space are almost endless. In addition, given the current property market here in Ireland, a garden pod will provide additional space at a far lower price point than looking for a new home! On the contrary, our garden rooms provide you with additional living space as a cheaper alternative to the cost of purchasing a new home.
How Long Do Garden Rooms Last?
What's more, here at Berko Pod Systems, our garden rooms are built using nothing but the finest materials available to us. By using light gauge structural steel, we can ensure that your pod will be as durable as possible for years to come. This structural solidity also means that our garden rooms are as versatile as possible. For instance, due to the fact that our pods are built using steel you are given multiple opportunities regarding external cladding such as timber, brick, or stone. This once again highlights the huge amount of flexibility on offer regarding garden rooms and garden pods. Another benefit of this sturdy construction is that your pod can easily be easily transformed into a home gym, allowing you to exercise at home in Derry or Donegal no matter the weather for years to come in .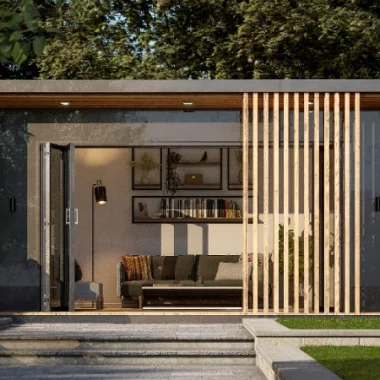 Having your own garden room, or garden pod as they are also known, also provides you with not only added living space, but also a blank canvas. If you work from home, your new garden room or pod can easily provide you with the perfect long-term alternative to a long daily commute. Garden rooms also provide a tranquil, quiet space which allows you to focus on your work free from any distractions which may be unavoidable in the house itself. 
Can you use Garden Rooms all year round?
As we mentioned earlier, the fact that here at Berko Pod Systems we construct our garden pods using light gauge structural steel and high-quality weather membranes means that not only is your pod exceptionally durable, but exceptionally well insulated. This is particularly important given the climate we experience here in Ireland. No matter what you decide to use your new garden room for, whether it be a home gym, space to relax with your family, or indeed a home office, we can guarantee your garden room will be usable all year round, regardless of the weather.
If you are interested in purchasing your very own garden room, why not get in touch with us here at Berko Pods Systems? Our team will be more than happy to help guide you through any questions you may have related to garden rooms and how we can help.