Choosing a Glamping Pod Manufacturer
Berko Pod Systems are a glamping pod manufacturer. We design and manufacture luxury glamping pods for the leisure industry in Ireland and the UK. Such as the rustic Canadian-style glamping lodge. Luxurious materials and amenities abound in this custom-built glamping pod. One can envision sitting outside on the beautiful teak composite decking, sipping a glass of pinot noir beside a crackling wood burner.
After enjoying nature's tranquillity, your guests can retreat inside. Here they are greeted with all the comforts of modern amenities for an ultimate glamping experience. Our high-end interior finishes make this luxury glamping pod truly a home-from-home. Stargaze the night away by looking out through the bedroom skylight!
Turn Your Glamping Business Dreams Into A Reality
Firstly, starting or expanding your glamping business takes a great deal of careful planning. Luckily, we respect and understand the huge investment which our clients undertake. Therefore, it is our goal to make your investment in our glamping pods as rewarding as possible. Our high-end luxury glamping pods offer top-quality finishes and designs. Therefore, our glamping lodges offer a higher than average bed night rate. Thus, this will speed up your return on investment.
The Future Is Bright for Glamping Pod Ventures
The future looks bright for the glamping business. Out of 1400 people surveyed, 50% intended to stay in a local holiday park. Not surprisingly, a third specifically said they wanted to try glamping. As such, it is the ideal time to join this booming industry. These new findings present an ideal business opportunity for country estates, landowners, and farmers looking to maximise their values. Likewise, it is a fantastic opportunity for the hospitality industry to optimise luxury bed space. With the right space, your glamping business can start large or small. By choosing the right business model, one can achieve a return on investment in the first two years.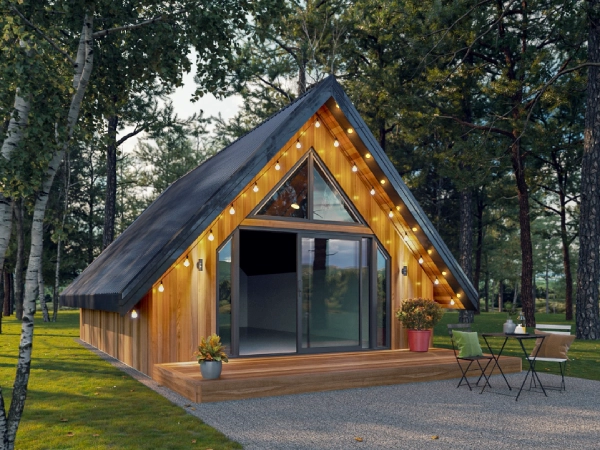 The Glamping Industry is Changing
Consequently, families, young couples, large parties, and solo travelers all wish to experience a glamping getaway. As a result, the glamping industry is becoming more sophisticated. Now, glampers demand more quality and different accommodation experiences. Fittingly, Berko Pod Systems cater for this growing industry.
Stunning Glamping Pod Designs
As said above, the glamping industry is quickly evolving. Hotels and landowners want to turn their land into a quick profit. Additionally, they no longer want to invest in costly and time-consuming construction projects. As such, this is the main reason why business opportunists are investing in the glamping industry. Additionally, the industry is calling out for hotel-style accommodation without the hassle of planning. This is where clever design plays a major role in shaping the glamping industry. For this reason, Berko Pod Systems have designed a range of unique and beautiful glamping lodges.
Luxury Lodge
As can be seen, our luxury glamping lodge encompasses all of the above. Firstly, our glamping lodge is designed to fall within glamping planning guidelines. As such, it is just the right size of 7m x 4m and can be easily transported and moved to another location.
Similarly, the interior layout, although compact feels spacious and functional. Through clever design, the glamping lodge includes all the essential amenities for a true glamping experience. Picture this, a beautiful wood grain cream kitchenette with beautiful rose gold handles and a walnut laminate worktop. Imagine, retreating inside with a warm cup of coffee. Here you will have a seating area similar to the standard of a deluxe hotel suite. Continuing, we will now walk to the back bedroom where you are greeted with a beautiful kingsize bed. Not to mention, the cleverly designed skylight above the bed. One can stargaze the night away. Moving on, a motion light sensor will lead you the way to a modern, hotel chic size bathroom.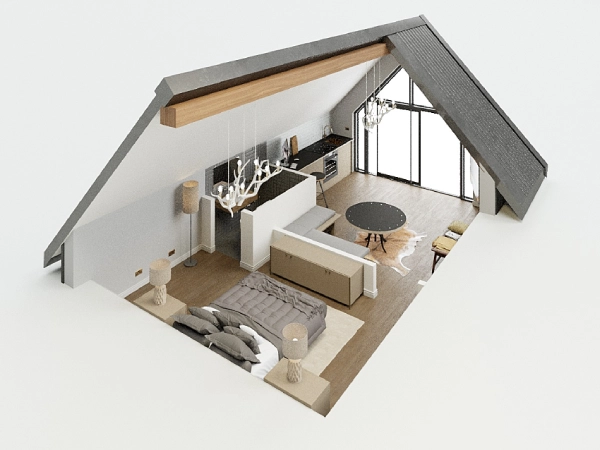 Luxury Treehouse
Similarily, another addition to our glamping pod range is our luxury treehouse. Imagine this, nestled in a forest you are greeted with a rustic yet modern treehouse. With attention to the twinkling fairy lights, one can climb up the staircase to the beautiful woodland decking. Perched up on top of the stand is a 5m x 3m luxurious glamping pod. Just like that, you are greeted with a king-size bed and a small kitchenette. Just like our luxury glamping lodge, guests can enjoy the beautiful views from their cosy king-size bed. Likewise, your guest can enjoy nature's surroundings from the comfort of their raised composite decking.
Continuing the tour, our guests can saunter down the stairs where they are greeted with a bubbling hot tub. Invision this, a glass of bubbly in one hand overlooking the serene woodland surroundings. With this in mind, your guests will be worlds away listening to the abundance of nature's callings. It will truly be an experience that they will never forget.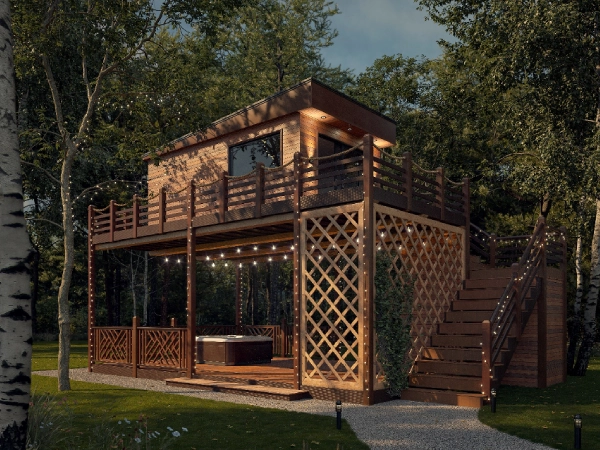 Invest with Berko
Ultimately, careful decision-making needs to be undertaken when trying to decide on the right glamping pod manufacturer for your business. At illustrated above, Berko Pod Systems can design and manufacture the most unique, functional, and stunning glamping pods for your business. We can guarantee that you will have a lifelong beautiful structure. Not only this, but you will also avail of a service that is stress-free for you and your business. This is because, at Berko Pod Systems, we never fail to meet a deadline. Because of this, your business will generate the revenue needed in a faster time frame.