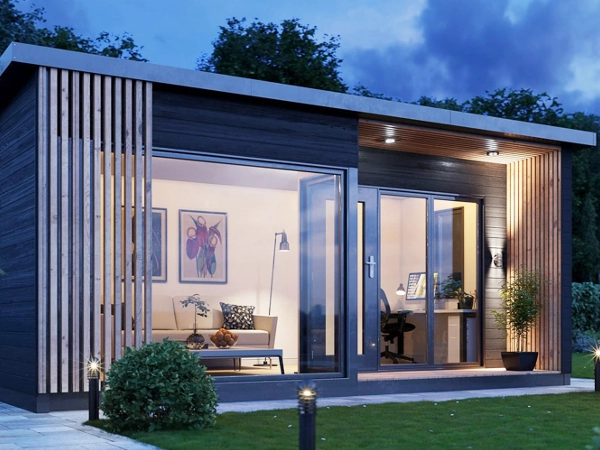 The Aurora Garden Room Derry is stylish, luxurious, and contemporary. It is the perfect garden room if you are looking for additional space. The full glazing allows you to stay connected with the outdoors whilst keeping within the comfort of your peaceful retreat. 
Dimensions:
Exterior – 3.0m x 6.0m
Interior – 2.6m x 5.6m
What is Included:
Double glazed sliding door/single door
double glazed fixed Glass panels
2 Double glazed windows
Kingspan insulation & weather membrane
External cladding of choice from Berko samples
Internal flooring of choice from Berko samples
Drylined & Painted finish in pristine
Roof detail finished with high quality EPDM coated aluminum with all trims and profiles
Standard Electrical Package
Standard Electric Package:
8 Interior spotlights
2 exterior spotlights
4 double sockets in chrome finish
Smart heater
CAT 5 Cable
The Aurora Garden Room Floor plans
Frequently Asked Questions about Garden Rooms in Derry
Contact us for more Garden Rooms Derry information
Fill out the form and one of our team members will be back to you shortly with more information.